Product Info
Product Number Weight/Unit Brand Product Dimensions
99 - 23894944 0.50 kg Xiaomi 14.13cm x 6.96cm x 0.89cm
---


FREE SHIPPING within Klang Valley
This deal is valid only for Klang Valley, Not valid for any other other area.

Products sold are 100% Genuine from XIAOMI China.
1 year warranty (Need to send warranty for repairing)

Delivery within Klang Valley area ONLY.
Shipping within 1-3 WORKING DAYS.
In case product is Out of Stock, shipping will take 5-10 WORKING DAYS.
Items of higher value will be charged a Delivery Fee inclusive of insurance coverage, which shall be borne by customer.
Terms & Conditions applied.
---
Product Description

Model: Red Mi 4 (16GB), Products sold are 100% Genuine from XIAOMI China, Back Camera 13MP,
Front Camera: 5MP, Network Connections: 2G|3.5G - HSDPA|3G|4G, Operating System: Android (Marshmallow),
Phone Features: Expandable Memory|Fingerprint Sensor|Touchscreen|GPS, Processor Type: Octa-core,
RAM memory: 2GB, Storage Capacity: 16GB, Screen Type: IPS LCD, Video Resolution: 1080p




Redmi 4 — low-maintenance metal flagship phone


Xiaomi Redmi smarphones are a burgeoning phenomenon! Redmi 4 Standard Edition
(SE) and Redmi 4 High Edition (HE) finally saw the light with a bunch of
fascinating features: they both received a solid metal casing,
are equipped with a fierce Snapdragon processor, have a
fast MIUI 8
operating system with a "second space"
option, enabling to double open applications.
Metal body shines at every angle
This is a metal era for Xiaomi's handsets. The metal used for the body not only provides its
endurance in terms of structure and color but also protects internal parts and disperses
heat well. Redmi 4 SE and Redmi 4 HE has an iconic metal capsule. It takes 30 steps
to go from a solid aluminum ingot to the finished product, including CNC cutting,
anodizing, sandblasting processes and polishing. Such an approach ensures
a superior grip experience from the first moment you take it.
Advanced energy management

Redmi 4 HE houses as large as a 4100 mAh battery. Combined with a low-power
Snapdragon 625 processor, based on 14-nm technology, it translates
into 9 days of performance with moderate usage. MIUI 8 helps to
maximize charge efficiency, preventing background applications
to start automatically. Sudden battery depletion is not
to worry about so you can take a rest watching
10 episodes of your favorite TV show.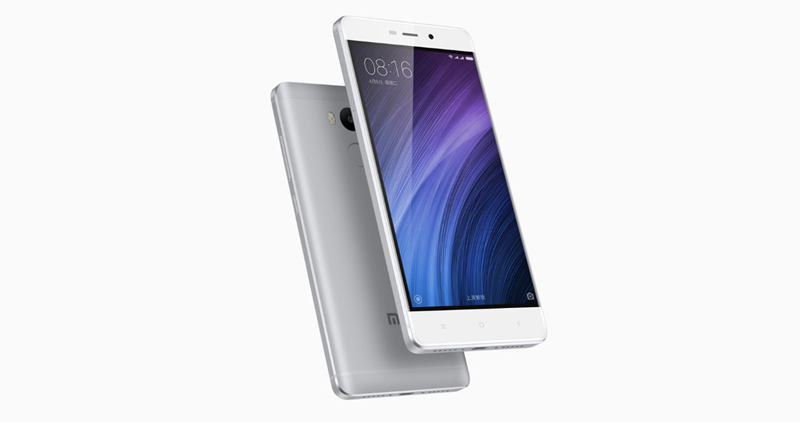 High-performance Snapdragon processor
Redmi 4 hosts a great performance processor in the same vein as a previous generation of
Redmi phones. Application opening became a matter of milliseconds. Redmi 4 HE
sports a thunderous 8-core Snapdragon 625 chip with 64-bit architecture.
Redmi 4 SE is packed with a lighter Snapdragon 430, which is still
efficient to handle everyday applications. For those, who like to
play HD games, watch videos, use the phone for continuous
Internet connection, this one is a great solution.