Product Info
Product Number Weight/Unit Brand Product Dimensions
S99-196537269 0.30 kg Xiaomi 15.54cm x 0.73cm x 7.58cm
---


FREE SHIPPING within Klang Valley.
Products sold are 100% Genuine from XIAOMI China.
Warranty: 12 Months
Shipping within 1-3 WORKING DAYS.
In case product is Out of Stock, shipping will take 5-10 WORKING DAYS.
Items of higher value will be charged a Delivery Fee inclusive of
insurance coverage, which shall be borne by customers.
Terms & Conditions apply.



---
Product Details of Xiaomi Mi A1 64GB ROM 4GB RAM,
4G LTE, Original Imported Set, unsealed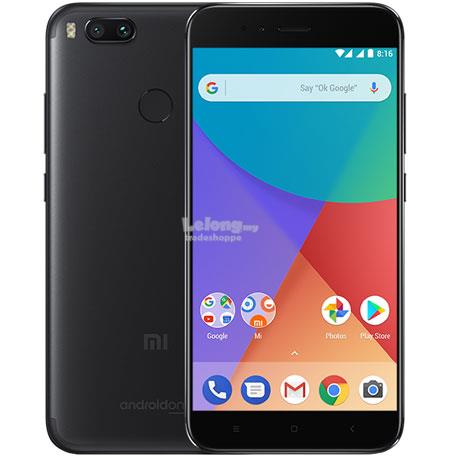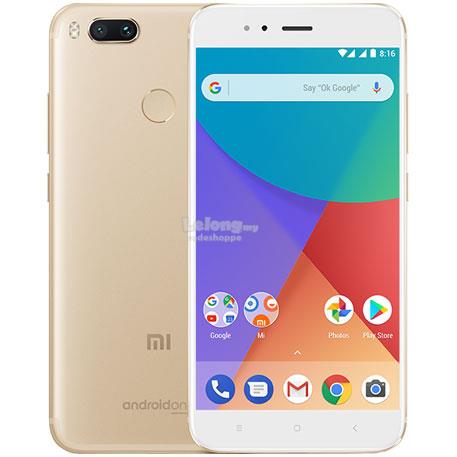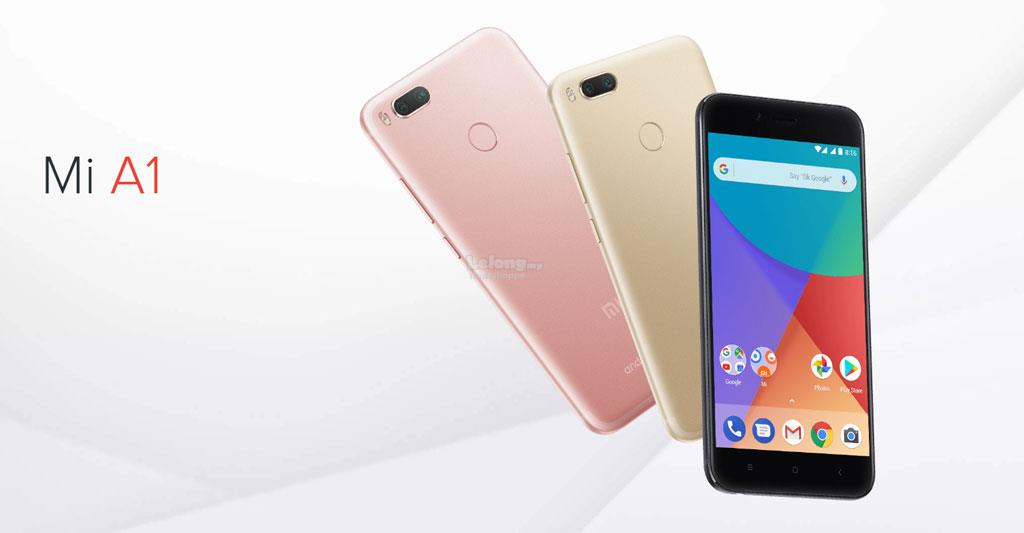 Gorgeous design
The perfect look

Stylish metal look, the integration of ultra-thin body (the thickness is only 7.3mm)
and classic design decision. Dimensions of the device are 155.4×75.8mm
and the weight is really small — about 165 g.

This model is a brother of Mi 5X, but it has some differences.


Smooth rounded edges look perfect, and it will impress you with its full metal body, that
looks very luxurious and expensive. Mi 5A will be available in three color variations:
the most popular rose gold, black and champagne gold. These are the
classic colors that will be suitable for every exacting buyer.


Fingerprint sensor for unlocking your device in a couple of seconds. It also can protect
your smartphone from undesirable unlocking by strangers.


Pyrolytic graphite sheet to reduce the heating of body
Many smartphone models have a problem of becoming hot when you use it for a long time.
Of course, it affects devices work, but Xiaomi found a solution to this problem.
Special pyrolytic graphite sheet can protect your device from overheating.

This technology helped to reduce the thermal performance of Mi A1 by 2degrees.
The metal body is matte, with protection from fingerprints marks. The
smartphone is not slippery and very comfortable to hold in a hand.

Big and bright screen
5,5-inches display to plunge you into the game world



5,5-inches
,5D glass
Corning Gorilla Glass
3080mAh
USB type-C

5,5-inches FHD display ideal for playing games or watching videos. Screen covered
by 2,5D glass makes it more aesthetic. Special toughened Corning Gorilla
Glass will protect the display from any damages. The resolution
of display is 1920×1080 pixels.


Powerful technologies in metal body.



Snapdragon 625
8-core processor
4GB RAM
IR Blaster
64GB internal memory

This model of the smartphone has an octa-core Qualcomm Snapdragon 625 chipset to
ensure powerful graphics (with Adreno 506 graphics processor at 650MHz )
because it is a good combination of productivity and energy efficiency.
Built-in RAM on 4GB is sufficient for the majority of tasks.

All of this productivity is supported by 3080mAh battery. It will allow your device to work
all day long. Recharging smartphone easily provided by USB type-C connector.


Use your smartphone as a remote control



In addition to this Mi A1 has a built-in Infrared Blaster. IR Blaster is a special component
that allows you to use your smartphone as a remote and is used to control
remote enabled devices like TVs, DVD player etc. So if your Smartphone
has got IR Blaster you can control virtually any electronic
device that can be operated by a remote.



A special hybrid slot for SIM and memory SD-card situated On the body. Every model of
Mi A1 is available with 64GB of internal memory. But if you feel that you need
more storage, you can expand it up to 128GB with microSD-card.



Thanks to a smart power amplifier with Dirac HD Sound algorithm it provides you with a
high-quality audio output with deep lows. This technology removes extra sound
effects, and provides more natural and pleasing sound. With built-in
microphone from Fortemedia, you will be heard clearly
even if you speak in a noisy place.



Dual camera to create photo content like a professional.


Make perfect portraits
12+12MP camera
4K video
f/2.0 aperture
5MP front camera
2x optical zoom
1.25µm
The powerful camera on the smartphone is a necessity of our modern life. It
will become your portable powerful digital camera which will help
you to make a beautiful photo of your adventures.

Xiaomi Mi A1 has a dual camera which allows you not only to make simple shots but
also to make the photo like mirror digital camera does. Portrait mode — is a
fashion trend in the smartphone market and for users it is a treasure.

Flagship dual camera with 12MP telephoto and 12MP wide-angle sensors. Xiaomi put the
entire flagship producing experience to give this model a high-quality camera.



This dual camera creates an effect of blurred background with the focused foreground.
To provide this effect camera combines a binocular stereoscopic
imaging system and deep learning algorithm.

Make a clear photo with 2x optical zoom


Moreover, MiA1 can surprise you with 2x optical zoom. It becomes possible to
make photos without any image quality compromise because
it compares with 10x digital zoom.

Make a video in 4k

The camera on Mi A1 allows you to make a video in high-resolution
4k and record the slow-motion video.




Front camera for great selfie

The front camera has a 5MP sensor with f/2.0 aperture. These parameters are quite
suitable for making a selfie, video calls and making live streams. Moreover
it has a built in facial recognition function and self-timer.

Model-look photo with Beautify 3.0



To have a high-quality portrait photo just use a smart filter (about 36 different filters)
Beautify created to make any photo gorgeous. It detects and accentuates
hundreds of facial points and your photo won't need any
post-editing with special applications.




More expressive photo



1.25µm pixels size of the main camera makes your photo quality clear even if
you shoot in the bad light (for example in the evening). But now many
opportunities will become available for you. Shots of
night city will appear in new quality.

Unlimited storage in Google Photos



More storage to keep your photos and manage them.
Work with your photo/video content became easier.

Outstanding with Android One on board



First model of Xiaomi with Android One
Mi A1 is a result of effective collaboration of such big giants like Xiaomi and Google.
This model has the famous Google apps. Just log in and you will be able to use
all your favorite Google Photos, Google Play Music, Google Play Assistant.



Get the access to the millions of tracks with Google Play Music.
Xiaomi Mi A1 will be available with Android Nougat on board.
In about two years you will be able to get upgrades of OS.



More security treats



With a special security service for Android Google Play Protect continuously works
and always controls and checks all the data by scanning your device.



Moreover, it has a feature like locking the device remotely. If you loose your
phone nobody won't be able to use. In addition to this, you
can make a call to your smartphone or track its location.