Product Info
Product Number Weight/Unit Brand Product Dimensions
99-195679806 0.50 kg Xiaomi 7.62cm x 0.77cm x 15.30cm
---


FREE SHIPPING within Klang Valley.
Products sold are 100% Genuine from XIAOMI China.
Warranty: 30 Days
Shipping within 1-3 WORKING DAYS.
In case product is Out of Stock, shipping will take 5-10 WORKING DAYS.
Items of higher value will be charged a Delivery Fee inclusive of
insurance coverage, which shall be borne by customers.
Terms & Conditions apply.



---
Product Details of (First Edition)XIAOMI XiaoYi Yi Smart WiFi Car DVR Camera
Dash Cam DashCam 165° 1080p, ADAS, G-Sensor,
Chinese UI, Sealed ,Dual Port USB


YI CAR CAMERA - Smart YI CAR CAM DVR

Support of ADAS Smart System
FULL HD 1080p 60fps
Night mode
Display 2.7″
Wide viewing angle of 165°
Comprehensive recording — safe driving

Car DVR, specially designed device for all car enthusiasts
YI CAR CAM combines high standards and functions of already existing in the current market DVRs
Our goal was to maximize the performance of the device for the optimal price.

Yi Car DVR has a special additional Smart feature ADAS, which analyzes the speed, distance and other data, allows
to determine the hazards arising from the surrounding objects while driving, and to warn the driver about
them. YI CAR CAM supports the FULL HD resolution of 1920 × 1080p 60fps and the maximum
resolution of 2304 × 1296p 30fps, so you will get a high-quality 1080p 30fps video.
Smart System ADAS
Modern image recognition algorithms, real-time detection of road markings and vehicle departure from them,
control of distance between vehicles and a voice warning to the driver about occurrence of unsafe
situations on the road. It also has a sensor that will detect the impact force (weak, medium,
high). In the case of an accident, the device will automatically provide all information
about it, preventing the emergence of conflicts between traffic participants.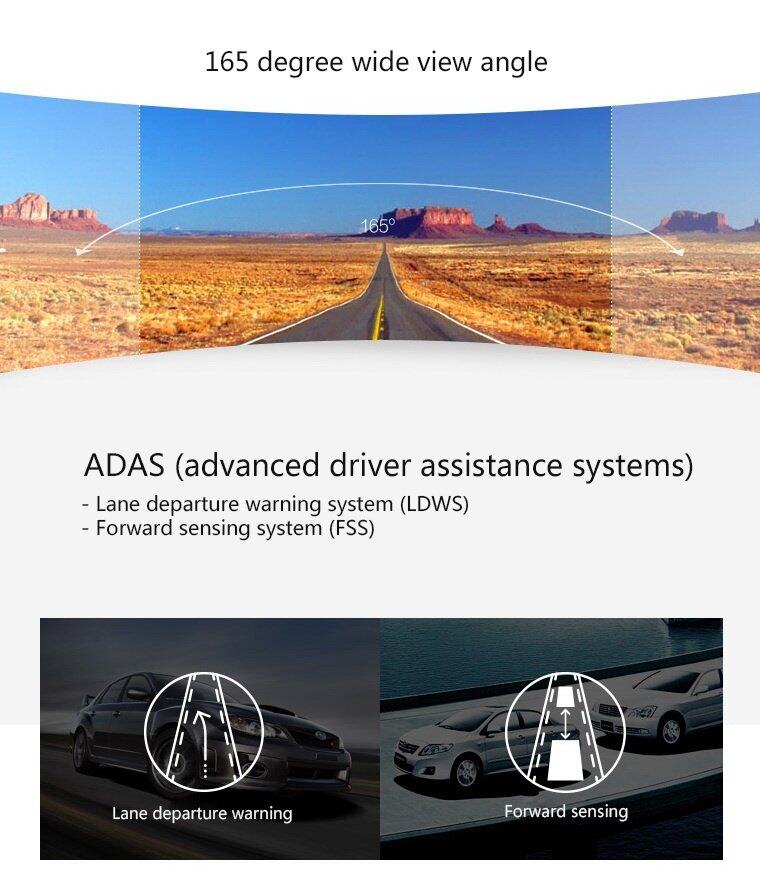 Lane departure
Distance between vehicles
Wide viewing angle of 165°, covering three traffic lanes
The question of the presence of blind zones in the DVR is one of the most important. That is why we
have equipped the YI CAR CAM with wide-angle glass lens, viewing angle of which reaches
165° and easily covers three lanes. High sensitivity, real and
detailed reconstitution of the situation on the road.
Aperture f/1.8
The ultra-sensitive image sensor
Night mode
One indication of the DVR class is the quality of its night filming. Most of the traffic accidents happen during the night.
Driver fatigue, dim light of street lamps, sharp glare of headlights and many other factors greatly increase the
risk of road traffic accidents occurrence. High resolution lens of YI CAR CAM is made of display glass
6G, it has an aperture f/1.8 and an upscale photosensitive matrix 3.0 × 3.0μm, which as a
result provide the high quality of night filming. The YI CAR CAM will provide a clear
and colorful video recording, even in low light conditions, besides,
you will not need an additional light source.

Built-in WiFi
The device has a built-in wireless module 2.4G, through which you can open the app to view the video in
real time, or to check the history of recording. Even going on a long trip, you need to
bring a Smart DVR YI CAR CAM and safely overcome any distance.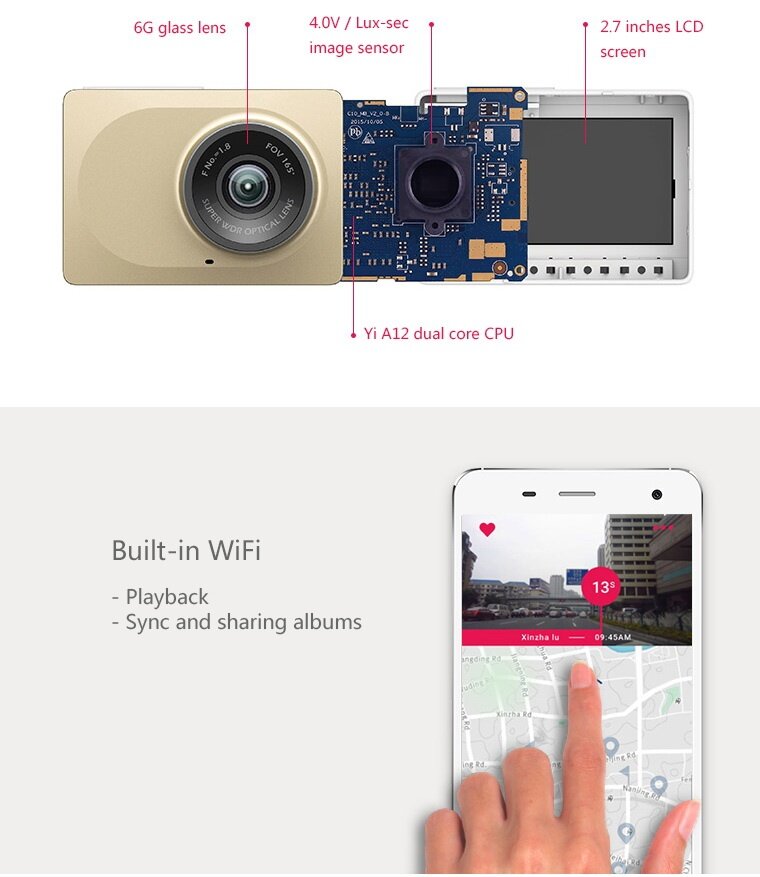 Android version: Requires Android 4.1 or later
iOS version: Requires iOS 7.0 or later

A clear high-definition video 1080p 60fps, H.264 video compression
Specially designed chip and a frame rate of 60fps provide the high-speed recording of the road situation, clear and
bright video image to restore the actual situation on the road. The newest H.264 video compression
technology provides the razor sharp picture in pixels, thus allowing you to
save even more hours of video in the device memory.
1080p 60fps Full HD video, 1080p 30fps Full HD video, Data overwriting
Recording of emergencies, H.264 video compression.

Ultra-high resolution 1296p UHD (high accuracy of interpolation)
The pixel density is higher by 44%, compared to 1080p, clearer picture
1296p 30fps Full HD video

6G display glass lens + infrared light filter

Clear video image
The camera lens is made up of six special optical lenses and one infrared filter, which neutralizes the
blinding light and helps to record a clear and vivid Full HD video.
6G display glass, f/1.8 aperture, Light impingement, Sharpening, Color Correction, Distortion Correction,
Blocking of interference, Calibration of light, Narrowing the beam, Photosensitive matrix.

Widescreen Display 2.7″ with aspect ratio 16 : 9
A widescreen high permeable 2.7″ LCD display with aspect ratio 16 : 9, wider viewing angle, recording during
the whole way. Large touch-sensitive buttons, more convenient and easy control, long service life.
External smooth surface of buttons is environmentally friendly and has a pleasant texture.
ICON New design, more simple and intuitive interface.

Symmetry of the holes, air convection
New design for device cooling
During operation of the DVR, cold air is entering through the bottom holes, hot — is coming out of the upper.
Under favorable operating conditions, the life of the device may increase significantly. New YI CARCAM
fashionable design has many symmetrically placed holes that enhance the effectiveness of the air
circulation in the device and improve heat dissipation. Our DVR is resistant to fire, eco-
friendly, wear-resistant, anti-corrosive, has the UV protection, does not contain lead,
has no specific smell, so we can ensure its long-term stable operation.

User-friendly and simple design for YI CAR CAM fixing, reliable and easy to install
Wear-resistant and flame-resistant device
T-shaped slot is designed for convenient and easy mounting of the DVR to a special bracket, so the YI CAR
CAM will not fall while driving. Thanks to it your trip will be accompanied by safety and reliability.

Not losing any detail
Use of quality PU varnish for coloring the body, pleasant tactile sensations upon contact with metal surfaces
of the device. As a result of rigorous testing, we can note that the material of the YI CAR CAM DV is
wear-resistant, corrosion-resistant, resistant to high and low temperatures. More important
is that the device has a solar control coating, does not contain toxic substances,
has no specific odor, is ecologically safe, and its high quality
lens "picks up" every little detail.
Precise technologies, excellent characteristics
To combine powerful features with high level of safety, our engineers and designers together with experts from
Germany, Taiwan, Japan, worked thoroughly on the development of the construction and each part of the
device. For coloring the body, we used the special qualitative PU varnish, which has the property
of protection against UV rays, combined resistant to fire SABIC and PC / ABS materials,
developed the special design for better air convection and cooling of the DVR, chose
the advanced high-tech components and equipped the YI CAR CAM with them.

High-resolution lenses 6G
High light-sensitive component 4.0V / Lux-sec
2.7-inch LCD display with an aspect ratio of 16: 9
Special dual-core chip (built-in technology of low power consumption DSP)

Smart YI CAR CAM DVR
ADAS Smart System support — assistance in driving and traffic recording
Two colors to choose from: champagne / gray

Smart YI CAR CAM - The best ratio of price and quality
The specialists from Germany, Taiwan and Japan have worked together with our (Chinese) engineers and designers
on the creation of Smart YI CAR CAM. As a result of our fruitful teamwork we have created an incredible
Smart YI CAR CAM, which, in addition to its high performance and advanced
technologies, has an excellent price-performance ratio.
6G display glass lens + infrared filter

Temperature stability, clear and sharp image
The YI CAR CAM DVR lens consists of six special optical lenses in combination with an infrared light filter,
which provide a wide viewing angle of 165°. Thanks to the high qualitative lens, the image remains
sharp and clear both when recording the video in daylight and during night filming.
Aperture f/1.8

Qualitative night filming
The aperture of the lens receives the maximum amount of light, the larger the light permeability is, the more
qualitative is the image obtained in low light conditions. Aperture f/1.8 of Smart YI CAR CAM DVR
shows that the ratio of the lens diaphragm relative to the aperture is 1 / 1.8.

Theoretically, increasing the amount of input light rays complicates the design of the device increases its
weight and increases the production costs in several times. In our case, the increasing of
the lens aperture had almost no impact on the cost of the DVR.

Image Sensor Aptina AR0230 by the American supplier company
We used the image sensor Aptina AR0230 with dynamic interval (HDR) by the advanced American company-supplier
of electronics ONSEMI, the size of which is 1 / 2.7". It helps to create the high-qualitative video with
recording speed (HD) 1080p 60fps. Support for HDR video provides a motion compensation
optimization, an optimal algorithm of local displaying of color shades (ALTM) and a
digital lateral overflow (DLO), reducing image distortions and
optimizing HDR color rendering.

The matrix of photosensitive pixels
Smart YI CAR CAM DVR is equipped with a high-qualitative photosensitive sensor 4.0V / Lux-sec with a
pixel size of 3.0 × 3.0μm, thanks to which the quality of night filming got
better twice, compared to conventional DVRs.

The unique 40nm chip
For Smart YI CAR CAM DVR, we have chosen a special new 40nm A12 chip — a high-performance dual-core
CPU + DSP processor, which makes it possible to record the video ADAS + 1296p 30fps / 1080p 60fps.
Advanced H.264 video compression technology with low power consumption level allows you to
record more hours of video on a limited memory space. Low power consumption DSP
technology provides fast image processing, high performance and safety.
2.7″ display with an aspect ratio of 16 : 9

4 buttons — preview, more convenient control
Smart YI CAR CAM is equipped with a 2.7-inch widescreen LCD display with an aspect ratio of 16 : 9,
for easy preview and video playback. Rich colors, qualitative image (960 × 240 pixels), good
dynamic response, absence of interferences, viewing angle is up to 165°. 4 handy
functional buttons, thanks to which you can easily control the DVR.

Second generation of e-HDR
A clear and high-qualitative image regardless of various adverse conditions such as entering the tunnel,
departure from the underground parking or other circumstances in which there are too much
darkened and illuminated places. The wide dynamic range technology e-HDR, compared
with the conventional WDR technology, increases the dynamic range by 25%.
Full HD 1080p 60fps video
Video recording with high frame rate allows you to capture the finest details, that's why during sport
competitions there are often used the advanced high-speed video recording devices for further
video viewing and making any judicial decision. While recording the motion of the vehicle
the conventional DVRs with 30fps video support may have some errors, video delays.
The Smart YI CAR CAM supports Full HD 1080p 60fps video, so when the vehicle
is moving at high speed, the DVR records the video with all the smallest
details, which can later be used as an evidence in case of a
road accident, or as a a video of beautiful landscapes.

Ultra-high resolution 1296p UHD
The pixel density of ultra-high resolution 1296p UHD, compared with the usual 1080p video,
is higher by 44%, so the image becomes more qualitative.
Average 1080p resolution
Ultra-high resolution UHD 1296p

ADAS Smart System
Built-in technology that helps the driver to control the vehicle and increases the level of safety while driving.
Modern algorithms for image recognition, the detection of road markings and the vehicle departure
from them in real time, control over the distance between vehicles and a voice warning of
the driver about the occurrence of unsafe situations on the road.
Automatically overwriting the old data
Continuous video recording. If the memory card is full, the system automatically deletes the old data.
As a result, the DVR records every second without any failures and does not miss a single moment.

Normal recording
Support for the Full HD 1080p 30fps / 60fps video and for the ultra-high resolution video 1296p UHD.
Recording of every moment when the vehicle is moving at high speed.

Recording in emergency cases
In a collision or sudden braking of a vehicle, the DVR automatically starts recording the emergency to fix the real
events, which will help in case of further litigation between participants of a road accident.

Shock sensor
Video recording in case of emergency, in a collision or sudden braking of the vehicle.
The sensor also captures the force of impact (weak, medium, high).

Recording function
The Enable / Disable video recording function, protecting the personal data confidentiality.

Beautiful and fashionable exterior design
Using the qualitative PU varnish for coloring the body, pleasant tactile sensations on contact with the metal
surfaces of the device. As a result of rigorous testing, we can note that the material of
the YI CAR CAM DVR is durable and environmentally safe.

Shock-absorption and fire-resistant material
Using fire-resistant SABIC and PC / ABS materials, which are characterized by wear resistance, corrosion
resistance, UV protection, high impact resistance, resistance to high / low temperatures. Therefore,
as a result of long-term use, even when exposed to UV rays, you will not find yellowing or other
signs of aging of the DVR. We did not use any screws for the outer casing of YI CAR
CAM, while the presence of the anti-vibration lining ensures stable and reliable
layout of a circuit board even during the movement of the vehicle.